I have an assortment of Game Day Traditions that I simply must partake in on Fridays. These have been a habit I have developed over time, and quite frankly have turned into a little like superstitions. I must wake up at the same time every Friday. I must stop at Chick-fil-A and get the exact same breakfast every Friday. I have to bring the same bag with the same stuff in it to every game.
My favorite Game Day Tradition, and the one I find to be most helpful for my husband is to send him a bible verse before every game. It's a little thing, but it's a powerful thing, and I can only hope it brings him some peace and gets his mind, body and spirit centered and focused for the game that looms in the distance.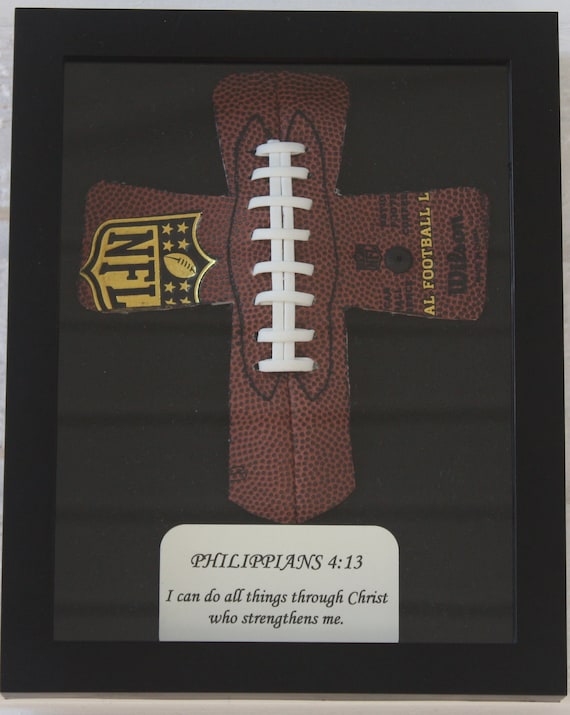 These are some of my favorites:
Philippians 4:6
"Do not be anxious about anything, but in everything, by prayer and petition, with thanksgiving, present your requests to God." (NIV)
Philippians 4:13
"I can do all things through Him who strengthens me." (NASB)
Isaiah 40:29-31
"He gives strength to the weary and increases the power of the weak. Even youths grow tired and weary, and young men stumble and fall; but those who hope in the LORD will renew their strength. They will soar on wings like eagles; they will run and not grow weary, they will walk and not be faint." (NIV)
Hebrews 12:11-13
"No discipline seems pleasant at the time, but painful. Later on, however, it produces a harvest of righteousness and peace for those who have been trained by it. Therefore, strengthen your feeble arms and weak knees."
1 Corinthians 9:25-27
"All athletes are disciplined in their training. They do it to win a prize that will fade away, but we do it for an eternal prize. So I run with purpose in every step. I am not just shadowboxing. I discipline my body like an athlete, training it to do what it should. Otherwise, I fear that after preaching to others I myself might be disqualified." (NLT)
— These Bible verses are also great for weight training
1 Corinthians 6:19-20 "Do you not know that your body is a temple of the Holy Spirit, who is in you, whom you have received from God? You are not your own; you were bought at a price. Therefore honor God with your body." (NIV)
2 Timothy 2:5 -7
"If anyone competes as an athlete, he does not receive the victor's crown unless he competes according to the rules. The hardworking farmer should be the first to receive a share of the crops. Reflect on what I am saying, for the Lord will give you insight into all this." (NIV)
1 Timothy 4:8
"Physical training is good, but training for godliness is much better, promising benefits in this life and in the life to come." (NLT)
1 Timothy 4:6-10
"You've been raised on the Message of the faith and have followed sound teaching. Now pass on this counsel to the followers of Jesus there, and you'll be a good servant of Jesus. Stay clear of silly stories that get dressed up as religion. Exercise daily in God—no spiritual flabbiness, please! Workouts in the gymnasium are useful, but a disciplined life in God is far more so, making you fit both today and forever. You can count on this. Take it to heart. This is why we've thrown ourselves into this venture so totally. We're banking on the living God, Savior of all men and women, especially believers." (The Message)
Isaiah 40:31
"But those who hope in the LORD
will renew their strength.
They will soar on wings like eagles;
they will run and not grow weary,
they will walk and not be faint." (NIV) (8/23)
Galatians 5 :13-14
"Ye have been called unto liberty; only use not liberty for an occasion to the flesh, but by love serve one another. For all the law is fulfilled in one word, even in this; Thou shalt love thy neighbor as thyself." (KJV)
Colossians 3:23-24
"Whatever you do, work at it with all your heart, as working for the Lord, not for men, since you know that you will receive an inheritance from the Lord as a reward. It is the Lord Christ you are serving." (NIV)
Psalm 105:4
"Look to the LORD and his strength; seek his face always."
Romans 5 :3-4 "We glory in tribulations also: knowing that tribulation worketh patience; and patience, experience; and experience, hope." (KJV)
Matthew 5:14-16
"You are the light of the world. A city on a hill cannot be hidden. Neither do people light a lamp and put it under a bowl. Instead they put it on its stand, and it gives light to everyone in the house. In the same way, let your light shine before men, that they may see your good deeds and praise your Father in heaven." (NIV)
Isaiah 41:10
"So do not fear, for I am with you; Do not be dismayed, for I am your God. I will strengthen you and help you; I will uphold you with my righteous right hand." (NIV)
Great Verse For Coaches & Athletes..
Put on therefore, as the elect of God, holy and beloved, bowels of mercies, kindness, humbleness of mind, meekness, longsuffering, forbearing one another, and forgiving one another, if any man have a quarrel against any; even as Christ forgave you, so also do ye. And above all these things put on charity, which is the bond of perfectness. And let the peace of God rule in your hearts, to the which also ye are called in one body; and be ye thankful. Colossians 3 :12 -15
Philippians 3:12-14
"Not that I have already attained, or am already perfected; but I press on, that I may lay hold of that for which Christ Jesus has also laid hold of me. Brethren, I do not count myself to have apprehended; but one thing I do, forgetting those things which are behind and reaching forward to those things which are ahead, I press toward the goal for the prize of the upward call of God in Christ Jesus." (NKJV)
1 Corinthians 10:31
"So whether you eat or drink or whatever you do, do it all for the glory of God." (NIV)
(2 Corinthians 3:10,
For what was glorious has no glory now in comparison with the surpassing glory. And if what was transitory came with glory, how much greater is the glory of that which lasts! 11 NIV)
Ephesians 4:11,12:
"So Christ himself gave the apostles, the prophets, the evangelists, the pastors and teachers, to equip his people for works of service, so that the body of Christ may be built up."
3 John 1:2
Beloved, I pray that you may prosper in all things and be in health, just as your soul prospers.
What are your favorite verses for your coach?